It's been two years since I have been at the helm of a fast-growing #insurtech startup. I have since moved on to new adventures.
But, I have kept up with the pulse of the industry by serving as an advisor and coach to newbie CEOs who are among a class of innovators. In my role, I am privy to the latest challenges and opportunities faced by these exceptional leaders.
I always listen intently and do my best to offer sage advice wherever I can accelerate their learning.
After all, not much changes in the insurance industry — even as new entrants, powered by gobs of venture capital, say otherwise.
(Well… Some things are changing — watch this report from my friends at CBInsights.)
So, by popular demand, I am republishing my list of 10 learnings with 5 new bonus lessons for all the newbie CEOs out there.
Enjoy!
---
The First 10 Lessons
The original list was published as a three-part series. I specifically geared this advice to CEOs of those companies developing B2B Software for carriers and brokers in the space. It garnered over 10,000 views on LinkedIn.
(I guess it was helpful.)
In part I, I offer predictions for the next decade in the insurtech wave. I offer three critical pieces of advice, namely: (1) approach your prospects as risk managers, not risk takers, (2) be both patient and persistent at the same time, (3) conserve your capital — you are going to need it.
You can read the first-three learnings here.
In part II, I explain how small the insurance world is, how important it is to ask for help, and why you should love your customers, no matter what.
You can explore part II here.
Part III of the series discusses how to innovate, how similar insurance companies are (no matter what they say), and why you should always sell to VITO (very important top officer) first.
You can find about VITO and more here.
---
" Insurtechs are technology-led companies that enter the insurance sector, taking advantage of new technologies to provide coverage to a more digitally savvy customer base. " — Tanguy Catlin, Mckinsey
The Five New Lessons
Build a Small Partner Ecosystem
When we first started executing on our partner strategy, we had "dates" with everyone. In some cases, we forged signed relationships that ultimately didn't amount to anything. Many of these relationships became dormant over time. Our initial assumption was that partners would bring us opportunities and help grow our business. This traditional view was flawed. The best approach to developing a partner ecosystem is to first, wait until you are closer to the mainstream part of your company development (past the proverbial chasm). This phase is when you know what your market needs; the "whole product." Next, develop clear evaluation criteria and select one primary partner to start. Finally, only forge a relationship where the partner always (100% of the time) makes money in a deal.
Get Comfortable Saying No
When I look back on my role as CEO of an insurtech company, there is one important thing I would change. I would say "no" more often. I would say no to customers. I would say no to deals. I would say no to partners. I would say no to product ideas. During the past decade, we signed on some very challenging contracts with customers, signed way too many partnerships (many ended up being rather unproductive), and developed ancillary products that were resource drains. Saying no is probably one of the most underutilized tools in a CEO's toolbox. Don't be afraid to use it.
Hire Domain Expertise from Day One
The founding story of my insurtech company is somewhat unconventional. My co-founders and I spent more than 18 months researching our way into the insurance industry. Saying we were novices is an understatement. Nevertheless, we found real pain. Along the way, we met some of the brightest minds in insurance. We built our team early on by creating a "double helix" of experienced enterprise software engineers and seasoned insurance operators. This DNA served us very well as we navigated the many storms that came our way. It also helped us to prepare for the unknown built into our venture. Don't hesitate to hire expertise early. Start your continuous learning cycle day one.
Focus. Do One Thing Well.
At FirstBest, we did one thing well, Underwriting Management Solutions. We virtually created the market for 3rd-party-sourced underwriting solutions. We understood the underwriter's pain with such depth, you'd think we were underwriters ourselves. (In fact, many prospects thought we acquired a company already specializing in the space.) We would say our software was "built by underwriters, for underwriters." It was true. However, I can't tell you how many times we were asked to consider solving problems in claims, policy processing, or rating. We explored some of these markets at times and quickly found ourselves losing focus. I encourage you to ignore the voices (at least initially) calling you to help with problems outside your expertise. Focus, and do one thing well. It enables you to perfect your craft and allocation of capital, develop a repeatable selling process, and hire the right expertise. Concentrating on one thing is the key to being number one in a new market; focus and execute.
Deliver Rapid ROI
Insurance companies are familiar with IT projects that take an eternity (over 18 months) to go live and with debatable ROI. Sadly, they have lived this arduous story countless times. So, a solution that delivers tangible ROI in less than three months is heart stopping. In fact, a solution that goes into production within a quarter, without any significant support from IT, is nirvana. Try your best to make your solution this blissful. Be the implementation that your customers measure all other implementations. In other words, don't strive to meet the existing standard, endeavor to set a new one. Our initial implementation cycles took about 6–12 months. The moment we cracked the code and made them happen in 3 months or less, everything changed for the better. We had faster sales cycles, faster implementations, quicker time to value and revenue, and improved customer satisfaction.
---
I sincerely wish all the new insurtech CEOs, the best of luck. The advice contained herein comes from my own experiences as a founder and CEO in the insurance industry. These lessons are intended to help entrepreneurs new to insurance avoid "unoriginal" mistakes as they develop their companies.
If they work for you, please comment below.
If you need advice, please email me at john@ceoplaybook.io.
---
Related reading >> Insurtech, the Threat that Inspires
---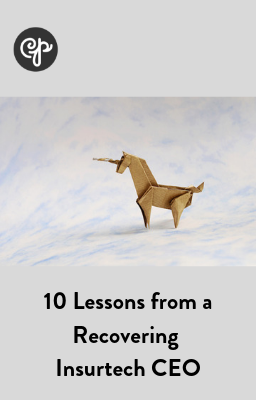 Download the e-book version of this popular blog series here.
---
About the Author
John Belizaire is CEO of Soluna, a serial entrepreneur, advisor, and investor. He is also the editor of CEOPLAYBOOK.IO — a medium publication (thoughts expressed here are solely those of the author.) Connect with him on LinkedIn and Twitter. To get the popular Mental Candy newsletter sign up here.