This is the third article in

a series of blogs by Mike McKee aimed at sharing many of the lessons he has learned helping technology companies move "onwards and upwards" over the last two decades.
---
In Parts 1 and 2, I wrote about getting advice, cash, and great people (Seek Advice Early and Often, Always Selling, Always Recruiting). Now I move to the main event: the customer!
---
Early in my first month as CEO (Chief Explainer Officer) at ObserveIT in March 2016, there was, what should have been, a very exciting milestone: one of our bi-annual product releases, version 6.5 of our Insider Threat Management solution[1]. The core focus of our solution was looking at cybersecurity risk from the inside out. 
At the time, 90% of cybersecurity solutions looked at risk from the outside in and focused on protecting organizations from external threats such as hackers, ransomware, and viruses. Our focus at ObserveIT was making sure that people on the inside – employees and contractors – didn't intentionally or accidentally send confidential information out, i.e., reduce internal risk.
With that said, version 6.5 had a big focus on security awareness, making sure that employees and contractors knew all the security policies and practices so that they wouldn't put the intellectual property of the organization at risk.
Having spent the prior decade focused on Customer Success at Rapid7 and PTC, my first question to our product leader in Boston was, which customers drove the thinking and requirements behind this idea?
Answer: Well……no customer specifically, but a lot of them really liked the idea when I told them about it at conferences (the expression, we were given two ears and one mouth for a reason: listen twice as much as you talk, popped up in my head).
Hmnn, next question: which customers worked with the alpha or beta versions of this release before it went GA (Generally Available to all customers worldwide)?
Answer: Well……we don't do alpha or beta releases. We just go straight to GA and hope that customers like it (the expression, hope is not a strategy, entered my head).
Hmnn, next question: what were the major enhancements requested at our last Customer Advisory Board (CAB) meeting?
Answer: Well…..we don't have a CAB (the acronym, WTF or what the f*CK, rang in my head).
Deep breath. 
Next question: which customers are ready to upgrade to version 6.5 because they're excited to take advantage of this new security awareness enhancement? I think I may have even used the expression "frothing at the mouth" because that's the way customers should be if this is the major focus of a bi-annual release.
 Answer: I'm not sure (the expression, focus on selling aspirin, not vitamins, entered my head).
 It was time to go for a walk.
---
There is a school of thought out there that customers don't know what they need, they can't see the future, and technology companies should be prescriptive by showing customers how they can improve their business practices. 
I hate to say this because it turns my stomach, but I've also heard, "Customers are so dumb. They have no idea how to use our software or what they need. They'll catch up to our thinking eventually".
While there may be some examples of technology companies leapfrogging customers and shifting them to a new paradigm (Steve Jobs' efforts at Apple are often used as an example), I am not that smart. 
I would argue that the Apple example is not just the exception to the rule but the 1% situation. 99% of the time, intently listening to your customers' challenges and needs, taking the time to understand and ideally measure how they use the software on a day-to-day basis, and analyzing support calls and services deployments is the better way to drive the product roadmap. After all, the software is for them, not for you.
Lots of organizations have Core Values along the lines of "Customer First," "Love Your Customer," "Think Customer Success," but like all Core Values, actions speak much louder than words on a wall, and embedding a truly customer-centric mindset is a massive challenge that takes full leadership commitment.
---
Here are three ways to build a customer-centric culture:
1: Listen
Listen, really listen, to your customers and prospects and ask the hard questions – what would make you get rid of our software?; if you had to cut half your budget, would we make the cut?; which competitor would you replace us with?
I tried to allocate 40% of my time – that's two days a week for math majors out there – to be directly involved with customers and prospects for my first year and then a minimum of 20% of my time thereafter. 
2: Build a Customer Success Team
Set up a real Customer Success function and remember that Customer Success does not mean just sending out invoices and collecting renewals.
After hearing the responses to my version 6.5 questions, I walked into the office the next day and told a high-potential sales Account Manager, Chris Rossignol, that he was now the leader and first member of our Customer Success function.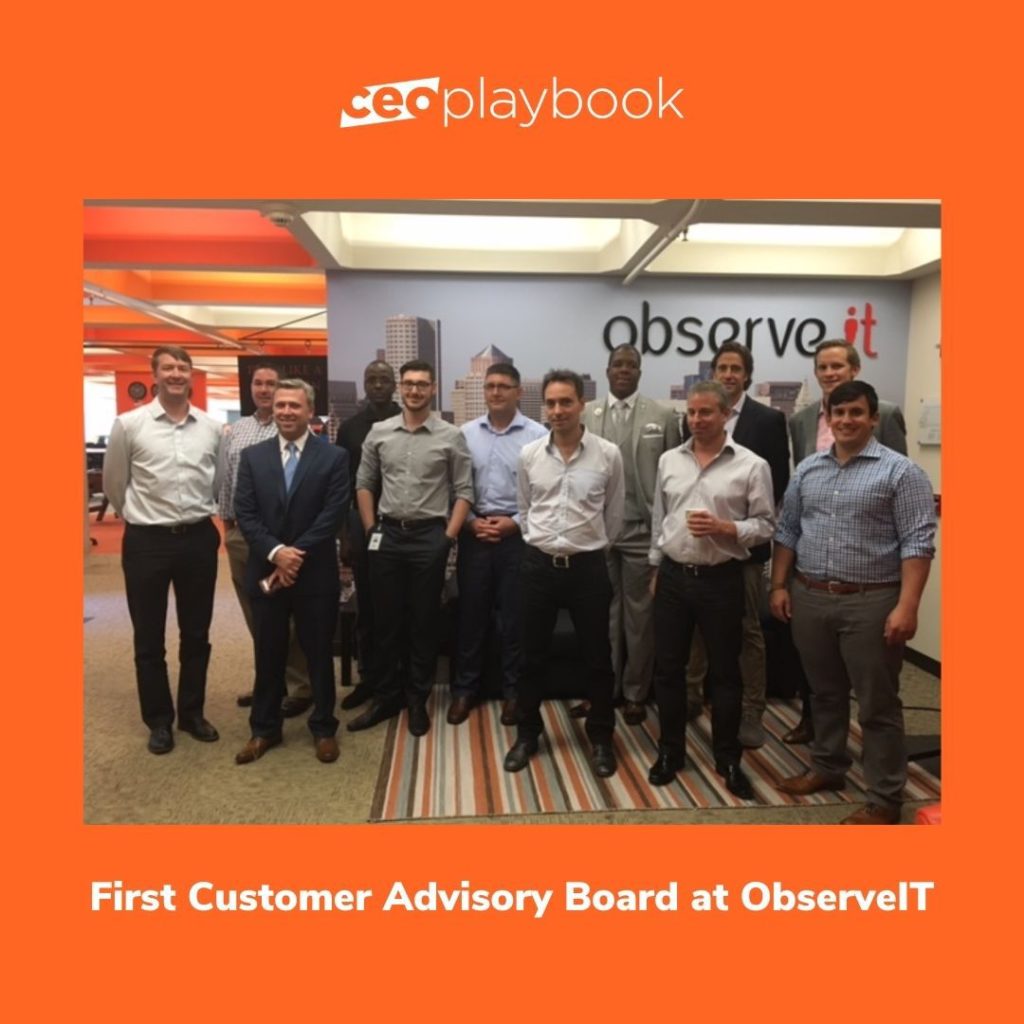 3: Customer Advisory Boards
Run PowerPoint-light Customer Advisory Board (CAB) meetings twice a year, ideally in multiple locations, and attend every minute of them.
I would like to reveal a quick secret: despite the fact that many organizations spend over 40% of their budget on Sales and Marketing, the most important source of information for prospects is existing customers. 
There is no better selling weapon in the whole world, especially in cybersecurity, than a happy customer talking to a prospect.
While I learned lots of great sales techniques and sales hygiene carrying a bag for 15 quarters at PTC[2], by far my best-selling tactic at ObserveIT was being able to say, I recommend you speak with one of our customers and then sharing the customer's contact information.
CABs, when done right, are like cheating. Assembling our first-ever CAB meeting was one of the first tasks for our new Customer Success Manager. I wanted Chris to get at least six customers to our office for a 1-day CAB meeting within two months (which means he would have to have at least 8 customers to agree to attend because there will always be last-minute attrition). Every working day for the next eight weeks, I asked him what the customer count was.
Chris delivered seven customers to a dark, windowless conference room, albeit the furniture was new. After a full day and evening (with a Red Sox game thrown in) with these seven very thoughtful customers from legit companies such as Ally Finance, Bain Capital, and Fresenius, I knew there was a business opportunity much bigger than I realized when I took the job. 
Our Insider Threat Management solution had the comprehensive data and early warning signs related to the risk around employees and contractors endangering the organization's intellectual property, or Crown Jewels, that these security leaders couldn't get anywhere else!
Now, what does "CAB done right" mean?  
Let's go back to the expression, "we are given two ears and one mouth for a reason."
We started the meeting by making it crystal clear that our CAB was as much for the attendees – make connections in the industry, learn how to get value from our software, talk about other non-related security software solutions – as it was for us. 
We then went around the table and asked each person to introduce themselves and describe two things: 1) how you get value from our software / the key use cases; 2) "what sucks" about our software and/or customer support.
---
There were no ppt slides, no roadmaps, no marketing pitches. 
Just an open, blunt, transparent conversation on what is working well and "what sucks". That introductory conversation lasted over four hours, with as much of it being between the attendees as directed at us. Yes, we did have a few ppt slides in the afternoon, but not many, and they were always followed by an electronic poll so people could weigh in on what product enhancements mattered the most to them.
The meeting was an absolute turning point for me because I saw how our customers really got value, and I saw opportunities that I had never envisioned before. It also sent a clear message to the company that all functions – engineering, services, support, sales, marketing – were now being directed by the voice of the customer. 
I will never forget the day when one of our engineers, who was working on an urgent escalation, ended his email to the cross-functional group addressing the challenge, with #customercentric, one of our five core values. This became commonplace as people took increasing amounts of pride and satisfaction in helping our customers.
 I had a similar "Aha moment" six months later when we assembled a dozen customers in a beautiful conference room on the 38th floor of one of the nicest office buildings in Boston. 
Customers told us that they were starting to turn off another security solution, Data Loss Prevention (DLP), once they implemented ours and that they had hated their DLP solutions for years but never had an alternative. Now there were many enhancements we had to make, which, bingo, became the core focus area for Version 7.0. Another turning point for the company, driven by customer input.
---
In case what you've read so far isn't compelling enough, let me apply some icing to the CAB cake: over half the customers who attended our CAB would buy more software within six months of attending the CAB without us asking! Keep in mind, the more customers we get, the better it is for them too. 
Everybody wins!
From the first CAB meeting we had, there was a direct correlation between CAB attendance and bookings for the company. Eventually, we started dividing the group by vertical (which I highly recommend) and bringing in industry luminaries. Remember: it's all about driving value for the attendees and getting insights for the company.
Many CAB attendees would do reference calls (which they would offer to do unsolicited during our CABs) and speak at our monthly company updates. We had their pictures on our walls and website with quotes and case studies. We had PowerPoint slides with their land and expand stories in our investment decks, we did interviews with them on marketing webinars, the list goes on. 
Everyone – prospects, customers, employees, investors, partners, job candidates – loves to hear real-life anecdotes.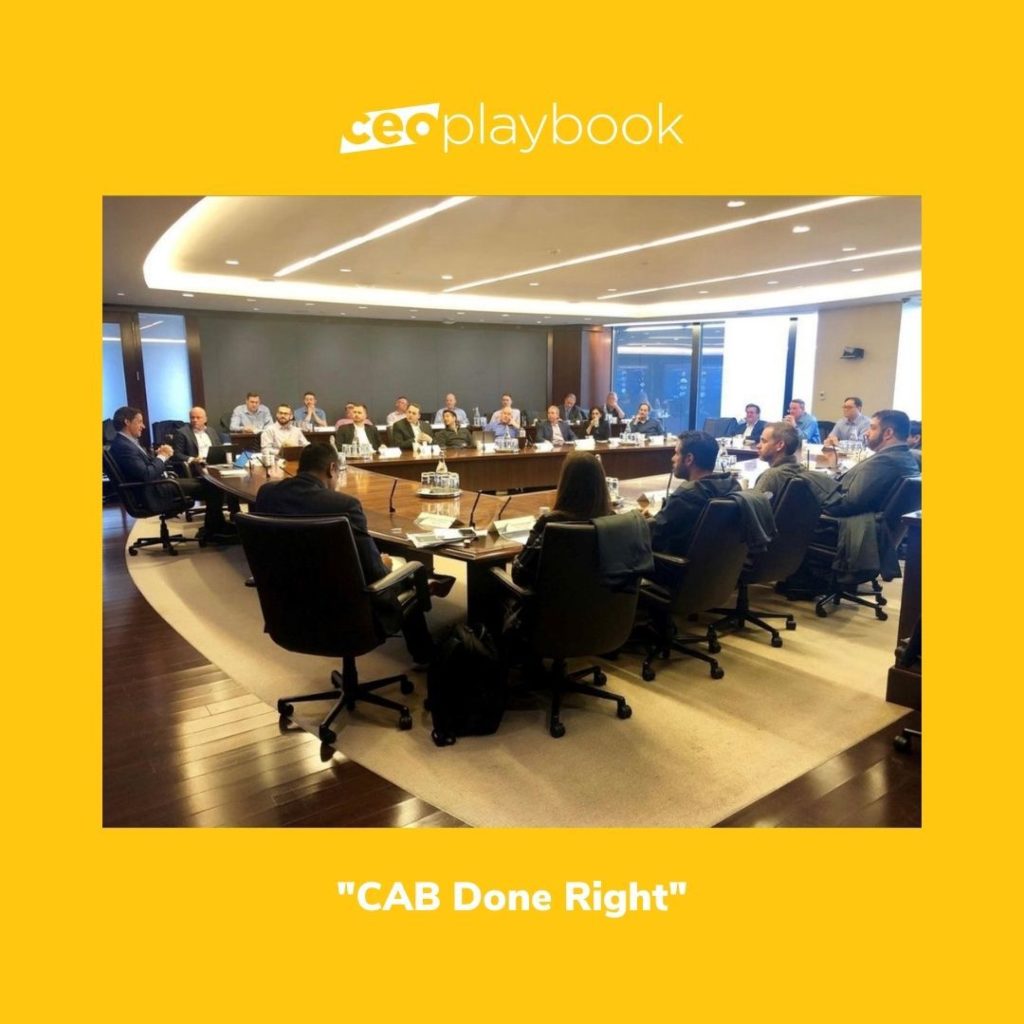 Everybody wins!
One of my proudest moments at ObserveIT was when Proofpoint, during their acquisition due diligence, looked at all our financial spreadsheets and customer lists and asked to speak to our 15 largest customers, which comprised some of the biggest companies in financial services, private equity, healthcare, retail, manufacturing companies from around the world. 
Within 24 hours, our SVP of Products, Mayank Choudhary, and I had connected with our champions in those accounts, asked them if they would be willing to take a call, and 14 out of the 15 said yes.
The 15th couldn't do it due to internal policies, so Proofpoint asked for one more who agreed within that same 24-hour time period.
ObserveIT is now part of Proofpoint which means that ObserveIT's 1,000+ customers are now part of one of the leading cybersecurity companies in the world and have access to 3,800 great Proofpoint employees and a company with almost $1 billion in the bank.
Once again, Everybody Wins! Starting with the person who uses the software and pays the bills, the customer! 
#customercentric.
Onwards and Upwards!
Mike
---
[1] — Apologies for the old-school, on-premise software reference – I will speak about our evolution to the 21st-century cloud-based SaaS platform in future articles, but rest assured, my underlying customer-centric message is equally applicable.
[2]– I can't recommend taking a sales job and owning a number early in your career highly enough, and I'm talking a real, quota-based number with half your compensation based on what you sell and that pit in your stomach when you call your commit number on the weekly forecast call and have no idea how you'll get there. I learned more about business in 15 quarters selling at PTC than I did in two years at business school.
---
About Mike McKee
Mike is the Founder of Onward & Upward Consulting — an advisory firm focused on helping CEOs and functional leaders master the First Principles of growing a venture-backed company. Mike founded the firm for two simple reasons: he was the beneficiary of so much great advice at PTC, Rapid7, ObserveIT, and Proofpoint that he wanted to share it with as many people as possible so that more people will hopefully experience the excitement, challenge, learning, fulfillment, and joy that comes from taking a company from point A to point B; and secondly, Mike plans to be a CEO again so wants to stay connected with as many great people as possible (spoiler alert: "Always Selling, Always Recruiting" is the next article in this First Principles series). 
Mike has over 25 years of cross-functional, global experience in technology, most recently as EVP and GM at Proofpoint. Before joining Proofpoint, Mike was the CEO of ObserveIT, which got sold to Proofpoint in 2019. His previous roles include leading award-winning Global Services and Customer Success organizations at Rapid7, SVP of Services and Strategy at PTC, CFO at HighWired.com, and Financial Analyst at Goldman Sachs. Mike played professional hockey for the Quebec Nordiques (now the Colorado Avalanche). He graduated cum laude from Princeton University and received an MBA, with honors, from Harvard Business School.